Impact RaceGear To Be Apparel Provider For Eric Riggins Racing
Eric Riggins Racing Joins Impact Team
April 11, 2014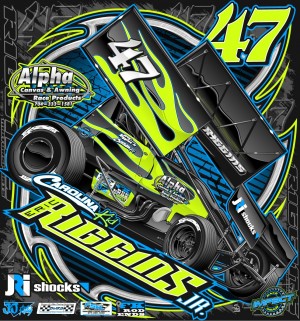 Impact RaceGear is pleased to announce its involvement with Eric Riggins Racing driver Eric Riggins, Jr. Eric, known as "The Carolina Kid", is the driver of the #47 Winged Sprint Car housed in Charlotte, North Carolina. You can catch Eric Riggins Racing at a number of dirt tracks in the eastern United States throughout 2014.
"We are very excited to work with Eric and everyone involved with Riggins Motorsports", said Jamie Christy of Impact RaceGear. You can keep up with Eric and the rest of the Riggins Motorsports on their various social media sites. For Facebook users go to www.facebook.com/rigginsmotorsports, on Twitter you can follow Eric at www.twitter.com/ELR47 (@ELR47), and on Instagram by going to www.instagram.com/elr47 (@elr47).
To learn more about Impact RaceGear and to get your own custom racing shirts visit www.impactracegear.com or www.facebook.com/impactracegear.